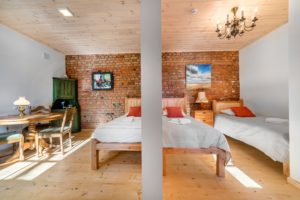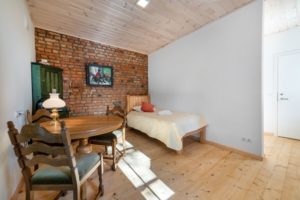 GUEST HOUSE APARTMENTS
Guest house SVILPAUNIEKI is located in Lūznava of the Rēzekne region in the park of restored Lūznava Manor. We are also part of Rāzna National Park, which is why nature lovers will appreciate the local lakes: there is lake Vertukšne, lake Zosna, lake Ismeri, and lake Rāzna in close proximity. Whereas guests from nearby or remote places can go and see the cities of Latgale or historical centres of the local regions: Rēzekne (22 km), Preiļi (42 km), Aglona (43 km), Ludza (50 km), Daugavpils (76 km), or Krāslava (75 km).
Guest house SVILPAUNIEKI is a family business. We would like you to feel like home during your stay in the guest house. It has everything you need to have a rest from the city hustle and bustle: 8 equipped rooms to suit your fancy (we can accommodate a total of 26 to 40 persons), a shared kitchen with everything required for cooking (you won't even have to worry about cups), wireless internet (in case you want to share your impressions with friends or change your work environment). 
Looking forward to seeing you!                                     
Kind regards,
Mārtiņš and Elīna Kiščenko,
Guest house SVILPAUNIEKI owners 
Contact info: mob. +371 25425522
Email: svilpaunieki@gmail.com 
P.S. We have a flexible discount policy – we offer discounts on long-term rent and on booking the entire guest house for your special occasion.